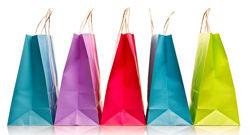 The Consumer Confidence Index reached its highest rate this millennium in December. The index last month climbed to a figure last seen in August 2000 as the Portuguese continue to look at the future with increased and almost unprecedented optimism.
The confidence enjoyed by consumers had been climbing steadily since the summer, but a considerable jump in December saw it reach a 16-year high.
According to Statistics Portugal (INE) the marked recovery in the sentiment among consumers was mostly due to "the positive contribution from the positive outlook towards employment and the general expectations that surround the economic future of the country."
To a lesser degree, Portuguese were also more relaxed about the current financial status as a household along with a renewed and increased ability to save. 
The survey, which measures consumer attitudes, especially in the short-term, further found that with regards to views on the national economy, opinions were last this favourable back in August 1998.
Consumers also indicated that they had, or were in the process of making important purchases, with this particular indicator the highest it has been since February 2004.
These positive figures follow the surprise news that Portugal's Gross Domestic Product (GDP) had risen by 1.6 percent during the third quarter of 2016. 
At the time, Finance Minister Mário Centeno argued that the dramatic year-on-year increase was in large part due to the "increase in confidence and improvements that were increasingly evident in the labour market."
Read the full article here: http://www.theportugalnews.com/news/consumer-confidence-at-new-high/40654