British visitors numbers to the Algarve during the winter months continue to rise with 2% more Brits opting for the Algarve in December 2016 compared to the same period in 2015.
According to data from the Algarve Association of Hotels (AHETA), overall hotel and tourist accommodation occupancy rates for December 2016 were similar to that of 2015, however there was a clear rise in the number of British visitors choosing the region for some winter sun.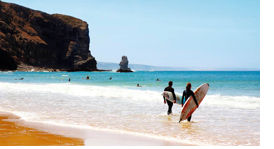 The biggest tourism markets for the final month of 2016 were British visitors, up by 2%, followed by German tourists, up by 0.6% and finally French visitors registered an increase of some 0.4%.
While in general terms December represented a positive month for tourism, the number of Spanish and Portuguese tourists did fall, however this is in line with a general trend that has been observed over the past 12 months and has been counteracted by the rise in the foreign markets.
The number of tourists in the region may have remained stable in December in comparison to the previous year, however the revenue generated has increased by 5.8% demonstrating a greater spending power of those coming to the Algarve.
The areas of the Algarve that saw the highest levels of hotel and tourism accommodation occupancy were Portimão and Praia da Rocha with an increase of 6.7%, while Albufeira, traditionally the most popular region for visitors to the Algarve, saw a rise in occupancy by 4.8%.
Mild winter weather with long periods of sunshine and warm temperatures may well have been a factor in influencing an increased number of visitors to the Algarve during December, especially tourists from far colder northern European countries.
The AHETA report notes that the occupancy rates for December could have actually have been higher if it were not for the fact that both Christmas and New Year fell on weekends which meant that those coming to the Algarve to celebrate were less likely to add on additional days to their stay.
The Algarve has recently implemented a new 360 programme of events in a bid to encourage more visitors during the low season months of the winter, and this combined with concerted marketing efforts has been seen to have helped persuade more tourists to the region outside the traditionally very busy summer months.