The Algarve region has been ranked as the best value holiday destination by the Post Office in its 10th annual World Wide Holiday Costs Barometer of 44 resorts and cities.
This is the second year running that the Algarve has come out on top and is good news for the region with value for money expected to be a crucial commodity in 2017 as affordability rather than aspiration provides the clue to holiday choice, according to Post Office Travel Money.
In its annual Holiday Money Report, the UK's largest provider of foreign currency says Europe could be the big winner as tighter budgets attract UK tourists to resorts where the holiday purse will stretch furthest.  Led by Portugal's Algarve, Europe dominates the report's Worldwide Holiday Costs Barometer of 44 resorts or cities, taking nine of the 10 best value places¹.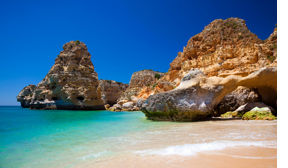 The 'currency conscious holiday' has already been named a key trend for 2017 by ABTA but, while there is no ignoring the impact of a weaker pound on the costs UK tourists will face in resorts and cities abroad, Post Office Travel Money says this is only part of the picture. The Worldwide Holiday Costs Barometer shows the extent to which local prices for meals, drinks and other tourist staples will dictate how far the holiday budget stretches.
While the Post Office Travel Money barometer reveals that overall costs are higher worldwide than in 2016, UK tourists can take some comfort because prices in local currency for the eight tourist items surveyed have either fallen or stayed on par with 12 months ago in 40 per cent of the destinations surveyed.  In Europe this rises to 50 per cent and by choosing one of these resorts or cities, holidaymakers can keep the increased cost caused by the weaker pound to a minimum.
According to the report, the best example of this is in Portugal's Algarve, which tops the chart for the second year running with a barometer total of £33.36 - only £4 (10 per cent) more than a year ago.  This is because the local price (euro) of an evening meal for two with wine – the biggest single cost in the barometer basket – is down almost five per cent year-on-year.
Andrew Brown of Post Office Travel Money said: "Holidaymakers can do little about sterling's value but they can do their homework and plan trips to resorts or cities where prices for meals, drinks and other tourist staples are low.  Europe is looking unbeatable value with nine of this year's 10 cheapest destinations, not to mention local price falls in half the European resorts and cities we surveyed."