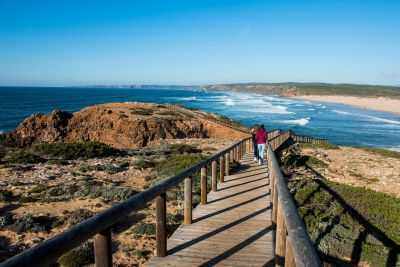 With 300 days of sunshine, beautiful beaches, great food and an overall feeling of safety, it's no surprise that the Algarve is the dream destination for many. Now, with the rise of remote working, it's easier than ever to enjoy the Portuguese lifestyle to the full. And that's exactly what digital nomads are doing
Part of the so-called Zoom boom, these remote workers can do their jobs from anywhere with an internet connection, combining business and pleasure. Throughout the past year, the effects on the Portuguese real estate market are evident.
"This is a segment that has been stimulating the market," emphasises Frederico Abecassis, CEO of Coldwell Banker Portugal, who notes that the demand from foreign families who want to come to Portugal has kept national real estate "lively".
Digital nomads, he says, "are responsible for the growth that has taken place, especially in the city of Lisbon, where they tend to settle for a period of time that can vary between six months to a year".
In fact, an article in International Living recently highlighted the Algarve as one of the three places in the world that digital nomads should have on their radar. In the article, author Ronan McMahon looks at the trend through an investment lens "to identify the best places in the world to capitalise on the Zoom boom through property".
Praising the region as a whole, McMahon focuses on the historic city of Lagos, "where the best-in-class property is in incredibly hot demand". In Lagos, he writes, "demand is surging, supply is scarce, and there are constraints that put serious limitations on availability".
"Last year, despite the lockdown, I hear some property owners in Lagos were still pulling in gross rental yields of 7%. Given what was going on in the world, that's impressive. And as the Zoom boom strengthens the rental market here, I predict this will only get better."
Find the perfect property in Lagos (or anywhere else in the Algarve, for that matter) by browsing our portfolio. We're also available to provide any extra information or advice – just in get in touch!
Photo courtesy of: Artem Zhukov - Unsplash