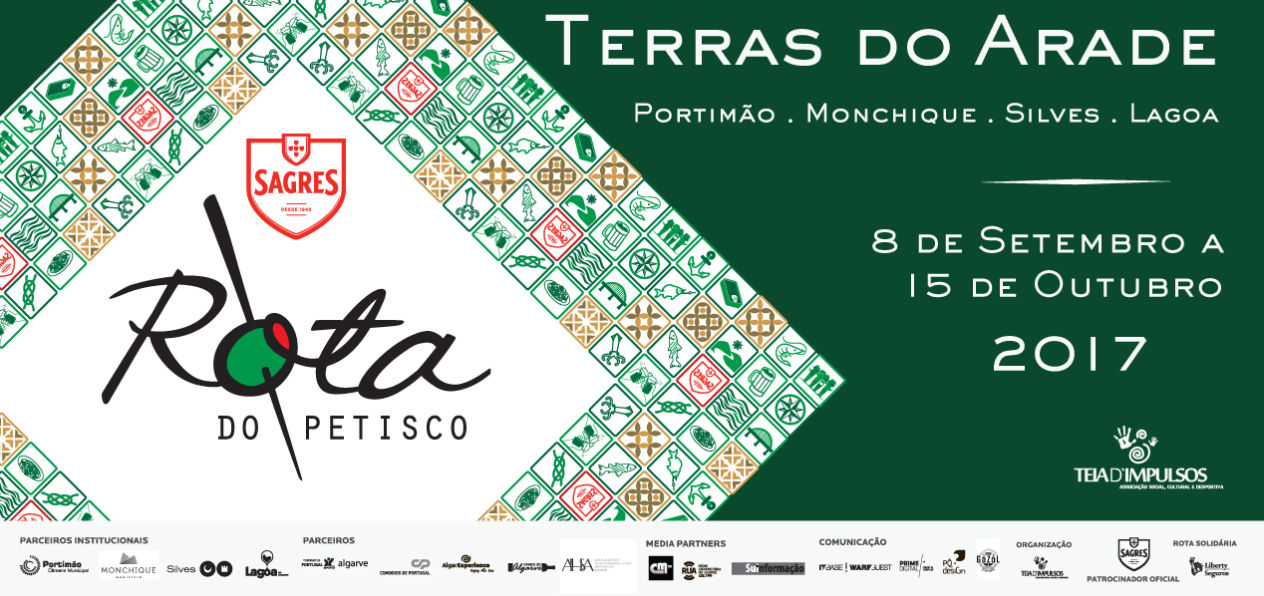 The third and final stage of the Rota do Petisco –Algarve tapas route, or 'Tasting Trail' – starts this weekend and is bigger than ever with a total of 165 establishments having signed up to take part in the increasingly popular event.
Created by the Portimão-based cultural and entrepreneurial association Teia D'Impulsos, the Rota do Petisco – Terras do Arade (Lands of the Arade) stage takes place between 8 September and 11 October.
It covers four counties – Monchique, Silves, Lagoa and Portimão – divided into 10 zones, including Portimão, Praia da Rocha, Alvor, Ferragudo, Lagoa, Silves, Armação de Pera and Monchique. 
The Terras do Arade stage of the Rota do Petisco is its third and final stage, having previously being held in Aljezur, Vila do Bispo and Lagos (Terras do Infante) in May and June, and, for the first time this year, in Faro and Olhão (Terras da Ria), in June and July.
The Rota do Petisco aims to take foodies on a gastronomic tour of the aforementioned regions with bite-size delicacies at a snip of the normal price.
Each establishment that signs up to the event agrees to put on a tapas-sized signature dish for the duration of the event, which, including a drink, costs €3, or €2 for a dessert.
To embark on the event a 'passport' must be purchased for an additional €1, so participants can see which establishments are taking part in the route, and stamp them off as they pass through. This passport also provides discounts in local shops and at Portimão Municipal Market.
Revenue from the sale of the passports is distributed among 12 local social projects and participants who garner the most stamps in their passports are entitled to prizes.
Novelties this year include the 'Chef's Route', in which seven chefs have created menus inspired by Algarvian traditions and products, and the World Route, which includes exotic international tapas from other countries, such as Italy, Vietnam, Cape Verde, Brazil, India and Japan.
Article published by The Portugal News