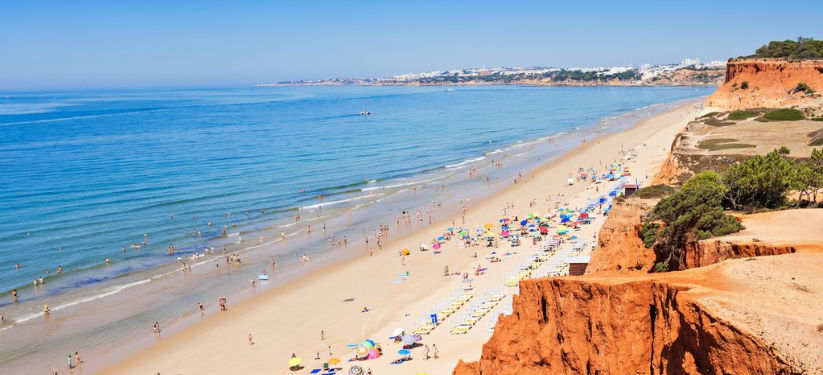 An exceptional year for tourism in the Algarve continues with the latest figures revealing that hotel accommodation was almost at 90% in the region during September.
According to statistics from the Association of Hotels and Tourism Businesses of the Algarve (AHETA), the average occupancy rate during September in the Algarve was at 89.1%, relating to an increase of 1.9% when compared to the same period in 2016.
Tourism levels throughout 2017 have been record breaking, with the year expected to finish with the best results ever recorded by the association, demonstrating the continuing popularity of the Algarve as a holiday destination throughout the year.
The September results also showed that there had been a large increase in the number of German visitors coming to the region, with data showing that the German market grew by 17.7% when compared to September 2016.  This increase helped to negate the fall of -7.6% in Portuguese tourists coming to the Algarve and the slight fall in the number of British tourists, which was down by -2.3%.
There were also increases in visitors coming from less traditional markets to stay in the Algarve in September, including more visitors now coming from Poland, Belgium, Ireland, France, Sweden, Denmark and Italy.
The areas of the Algarve which saw the highest increases in overnight stays were concentrated in the central and eastern areas of the region.  Monte Gordo / Vila Real de Santo António saw a rise of some 6.2%, Albufeira occupancy increased by 3.7% while there was a 3% increase in visitors registered in the Carvoeiro / Armação de Pêra area.
Tourism levels are not only a positive indicator for a growing economy in the Algarve, the positive numbers from September also show that the Algarve is managing to hold on to high occupancy levels out of the traditional summer months of June, July and August, thus helping to combat seasonality.
An increase in the number of visitors to the region is also an indicator of a buoyant real estate market as the more people who choose to visit the region relates to an increase in the number of potential property buyers who may be discovering the region for the first time.